The America's Cup Sailing Experience on San Francisco Bay
Join the crew aboard USA 76 for an exciting, heart racing experience of a lifetime!
PUBLIC CHARTERS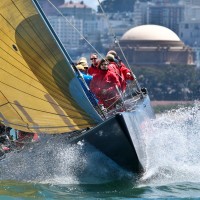 Located at PIER 39, USA 76 provides a unique opportunity for individuals and small groups to participate in the sailing of an International America's Cup Class yacht. Join us for a thrilling 2.5 hour adventure. Help with the 'hoist,' take your turn as a 'grinder' on the big sail trim controls, be the skipper of your own America's Cup team as you take your turn at the helm of this high-speed yacht. Public trips are conducted multiple days a week, all year. We also sell gift certificates, call (415) 990-9992 to purchase.
Regular Tickets
Wed/Fri/Sat/Sun
$140 adult
$70 child *
Pro-Sails and Special Events
Select Days
$190 adult
$95 child *
* 5-12 years
Individual tickets available on sailing charters year round
PRIVATE EVENTS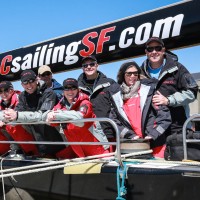 Enjoy a private 2.5 hour excursion or use USA 76 as team-building platform for your group. Great for entertaining friends, birthdays, corporate team building or office parties. Whether you are here just to have fun or want to learn to work together as a team, this yacht is sure to impress.
Custom options for your event include: branding the mainsail, hiring a photographer, hiring a professional America's Cup speaker, or purchasing custom gear.
For Rates and Custom Quotes
Call: Warren Allen (619) 630-6383
Email: Warren@ACsailingSF.com
Reserve the boat for your group of up to 20 guests
SPECIAL EVENTS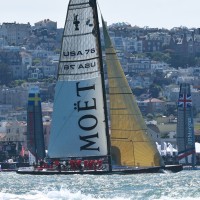 Gift Certificates
Purchase a ride aboard USA 76 as a gift for someone. Call us at (415) 990-9992 with the name of the recipient and we will send you an electronic certificate that you can print and give as a gift. Certificates are valid for one year. Premium gift packages also available. View all gift offerings.
Racing Aboard USA 76
Race with us on March 1st in the GGYC Manuel Fagundes Seaweed Soup Regatta. Fleet race starts on the San Francisco City Front.
USA 76 also enters two Pursuit Races each year against the local competition. USA 76 will give a head-start of an hour or more to the slower boats before starting. Then the race is on to catch and pass as many boats as possible before the finish line! The next race USA 76 will enter is the Big Daddy Regatta on March 9th.
Pro Sailor Speaker Series
Join us on select Sundays throughout the year for the unique opportunity to sail aboard with a professional sailor and gain insight to their world while receiving hands-on tips and stories.
Gift Certificates, Races, Pro-Sails, and more!